Tips and Recommendations for Checking and Driving Your Vehicle on Rough Terrain
Off-road adventures can be exciting and challenging, but they also require proper preparation and precautions to ensure a safe and enjoyable trip. We have provided you with some valuable tips and recommendations for ZONE RV owners to check their vehicle's components and driving recommendations for various off-road conditions. Regular checking and visual inspections of the RV before and during off-road driving are crucial, as it helps prevent any potential damages to the vehicle and ensure your safety on the road.
Things to Check: Before hitting the dirt road, it's essential to check your ZONE RV's fastenings and components to ensure they are secure and in good condition. Below is a list of things to check before starting your off-road adventure:
Check cupboard fastenings, draw latch fastenings, and other fastenings with a Philips head screwdriver.
Make sure that oven bolts, fridge bolts, and battery straps are tight.
Check all fixtures for appliances and components like water pump and solar regulator.
Ensure that hinge mounts for cupboard doors are tight and all drawers and doors are latched correctly.
Check fastenings for drawbar components like toolbox bolts, gas bottle holders, and jerry can holders.
Ensure your Anderson plug is tight into the back of your car and cable-tied to the trailer plug to prevent dragging on the ground.
Check all hatches are closing tight and adjust the hatch latch as required.
Walk around your van and visually inspect to see if there is anything unusual, any component that looks loose, or any areas of damage.
Check your tyre pressures and suspension height.
Ensure gas bottles are secure and turned off.
Driving Recommendations
Off-road driving conditions can vary, and ZONE RV has provided recommendations for some of these conditions. It's important to note that these recommendations are for guidance purposes only and do not account for traffic or weather conditions. Here are some of the driving recommendations to follow:
Bitumen Road Tyre Pressure: 40 PSI (110KM speed limit)
Dusty Road Tyre Pressure: 35 PSI (100KM speed limit)
Lightly Corrugated: 28 PSI (80-100km speed limit)
Moderate Corrugations: 23 PSI (80km speed limit)
Bad Corrugations: 18 PSI (60km recommended minimum speed, where possible maximum speed 80km)
Sand Driving
Driving on sand requires a different approach, and it's crucial to follow these recommendations to avoid getting bogged or stuck:
Reduce speed and lower all tyre pressures on both the van and the vehicle to 18psi or less.
Try to drive on the harder sand and maintain the momentum of your vehicle while negotiating soft sand.
Stay in the wheel ruts as they are usually harder than the soft sand.
If your vehicle allows, select low range auto for beach access and high range 4WD for hard sand driving.
Turn off the brake controller as sudden stopping can bog the trailer.
Water Crossing
Water crossings can be risky, and it's crucial to follow these recommendations to prevent any damages to your vehicle:
Pause or stop to allow cooling of your hubs and bearings before making a water crossing to prevent water ingress through the wheel bearing seals.
Apply the brakes once on the track until braking is normal or use the brake controller to apply the trailer brakes to dry out the linings.
Allow 20 minutes cooling of your bearings before river crossings.
Always check and regrease bearings after crossings as required.
Always check wheel bearings after water crossings.
Conclusion: Preparation is the key to a safe and enjoyable off-road adventure, and following these tips and recommendations
Disclaimer: The recommendations provided in this text are for guidance purposes only and should not be taken as a substitute for professional advice. It is crucial to always assess the conditions of the road before driving and adjust your driving approach accordingly. ZONE RV has provided these recommendations based on their experience, but every off-road driving condition is unique and requires careful consideration. Always prioritize safety and conduct regular visual inspections of your vehicle before and during off-road driving to prevent any potential damages or accidents.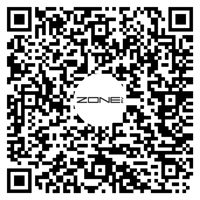 Use QR code to open this article on your phone or tablet.